Let's talk school dinner desserts! ~ヽ(o・∀・)ノ
Of course I mean the good 'ol classic vanilla sheet cake generously topped with sweet white icing and sprinkled with plentyyyyyy of hundreds and thousands! Make that stuff rain!
For those of you that have studied in British schools will understand what I mean *wink wink*, but for those that didn't, let me explain. Pretty much after ALL school dinners the dinner lady will hand you a slice (or triangle) piece of yellow fluffy goodness and top it off with a heaping of hot vanilla custard. It was THE BOMB. Sometimes (only sometimes) could you get a second slice 'cause it was that good.
Nonetheless, fast forward a few years and we aren't at school anymore but we can still eat that same cake! A super-duper easy recipe to follow that you can make in no-time! A blast from the past.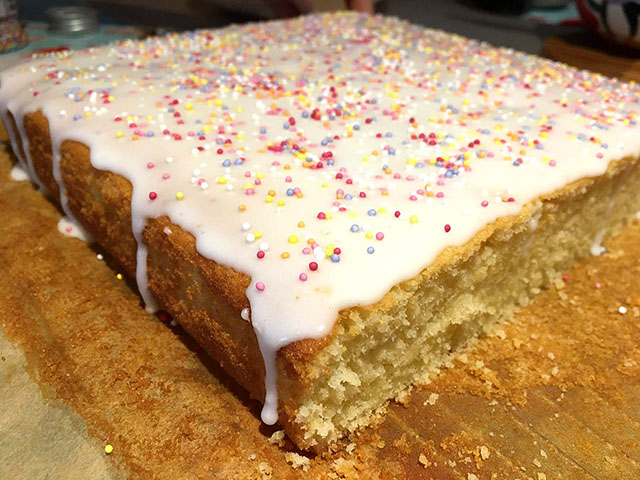 ---
School Dinner Cake Recipe
---
Ingredients
Vanilla Sponge 
300g Unsalted Butter (soft)
180g Caster Sugar
1 tsp Good-Quality Vanilla Extract
5 Large Whole Eggs (room-temp)
300g Self-Raising Flour (sifted)
95ml Full-Fat milk


Icing
400g Icing Sugar
5 Tbsp Full-Fat Milk
Loads of any sprinkles (I used Hundreds&Thousands sprinkles)
Method
This recipe yields ~20 squares.

Preheat oven to 160°C/ 325°F/ Gas mark 3.


Prepare a 9″inch x 12″inch x 2″inch(deep) baking tray lined with parchment paper – (I like my cakes to be a bit thicker, reference photo, otherwise just use any deep tray).


In a large bowl cream together the butter, sugar and vanilla until well mixed and looks a bit fluffy.


Add the eggs one at a time, making sure each time it is well incorporated. When the last egg is added, it may look a tiny bit split – but it'll be fine, have faith.


Gently fold the flour in parts, 1/3rd at a time. Do not overmix, just until well-combined. Then add the milk and gently fold in – this must be mixed in properly.


Pour cake mix into the tray lined with parchment and spread evenly.
Bake 25-30mins, or until a skewer/knife inserted comes out clean. Cool completely before placing icing.


Icing: Place icing sugar into a bowl, add 4 tbsp milk and mix. Then adjust the consistency slowly, add the 1tbsp milk if it is too thick. If you find the icing is too runny, simply add more icing sugar. The perfect consistency is when there is resistance whilst you mix and when you lift it up you can create a figure-8 then it will slowly disappear.


Now ice that cake and sprinkle that magic!
(To get clean cut lines, you must allow the icing to set a bit first! Sorry, but you must ヾ(´囗`。)ノ.) 
This recipe is a reduced sugar version of Oh La Living's.
Happy baking and always enjoy! (○゚ε^○)v