What do you do when you have too many dates sitting in the fridge?… Chuck them into a cake!
– and that's exactly what I did!ヽ(●´з`)ノ
Maybe it's a sin, but I have never really been a massive fan of dates, prunes, sultanas, raisins or any of their other dried cousins.  But I do enjoy them once they are mixed into things, such as pain au raisins, chocolate covered ones, cakes, bars and ice-creams! So waste not, thus this cake was born.
Inspired by Tori Avey's Date Honey Nut Cake, I made a few adjustments to this version with what I already had in the house. The result was just as awesome as Tori's! The cake is super moist with beautiful light crumb texture, the dates remained juicy and soft with still added bite and the nuts created aromatic crunch elements to the cake. Also, being a professionally trained Pastry Chef, I automatically felt the need to decorate the top with the same contents inside.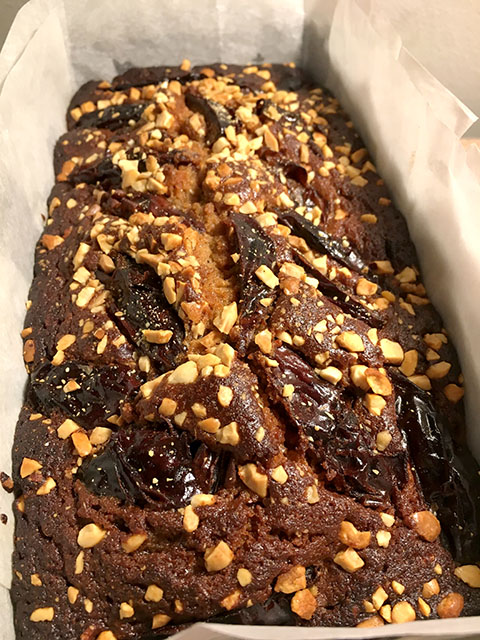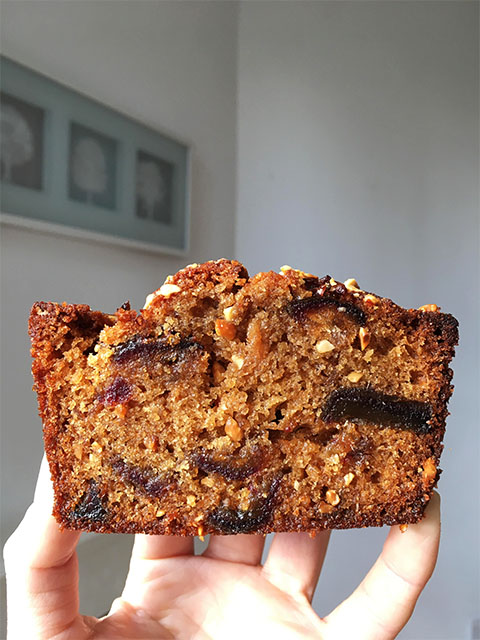 Ok, so let's get baking!
---
Honey Date Peanut Loaf
---
70g Dates (pitted and cut into rough chunks – big is ok)
125g Cake Flour
5g Baking Powder
4g Ground Cinnamon
1g Fine Salt
160g Sunflower Oil
110g Dark Brown Sugar
84g Organic Honey (Liquid)
2 Large Free-Range Eggs
5g Vanilla Extract (I used the one with seeds inside)
50g Roasted Chopped Peanuts (save roughly 25% of the nuts to sprinkle on top)
Method
This recipe will produce one 8″ loaf. 
Preheat the oven to 325°F/ 160°C. Line the loaf tin with parchment paper and set aside.
Sift the flour, baking powder, spices and salt into a large bowl.
In a separate bowl, whisk together the honey, oil, dark brown sugar, eggs, vanilla and dates.
Pour the dry ingredients into the liquid mixture and fold until just combined, then add in 75% of the peanuts and mix until well distributed. Do not over mix.
Carefully pour the entire mix into the prepared loaf tin and bake for 50minutes – 1 hour, or until a skewer inserted comes out clean (a few crumbs attached is perfectly fine).
Allow to cool until the tin is no longer hot, then remove cake with parchment still attached and finish off cooling without the tin.
Slice and serve with your favourite beverage! Mine is hot chocolate – yum!
Happy baking and feel free to share your bakes with me! Any questions feel free to leave a comment! 🙂