Hello and welcome! 😀
So today I received a special gift of Mr. Lee's Noodle pots! You can find these in many supermarket and wholefood shops across the UK, and in some locations through USA and Australia.
Mr. Lee's Noodles was established by none other than Damien Lee himself during 2015. Through Mr. Lee's journey battling cancer, he realised that to be well, you have to eat well and that means no junk food including his guilty pleasure instant noodles – thus Mr. Lee's Noodles was born!
Mr. Lee wanted to create a delicious instant noodle that would not only be good for you, but also provide you with high levels of protein, great source of fibre and low in calories. Sourcing and using only the best ingredients from around the World, Mr. Lee was able to put together this delicious range of noodle pots with Chef Andy Chu.
Together they produced six Asian-inspired flavours packed full of goodness and guilt-free. All the noodle pots are low in sugar, low in salt, gluten-free with no added artificial flavourings and/ or colours and definitely no MSG! (monosodium glutamate). There are also vegan options too.
I received 6 vibrant flavours to try:
Hong Kong Street Beef
Tai Chi Chicken
Warrior Fighting Shrimp
Zen Garden Miso (v)
Coconut Chicken Laksa
Dragon Fire Vegetables (v)
First of all, let's just take a moment and admire how colourful and energetic their packaging is (as you know, I am a HUGE fan of packaging). With this range, it feels like I am going to eat a rainbow full of goodness right here – and that's before I've even taste it!
I understand that sometimes packaging can shine brighter than the product itself, so let's get straight to it! Show us the noodz!!
Now let's delve deeper into each flavour!
Dragon Fire Vegetable
– Hot and Sour Rice Noodles with mushroom, bamboo shoots, ginger and green beans.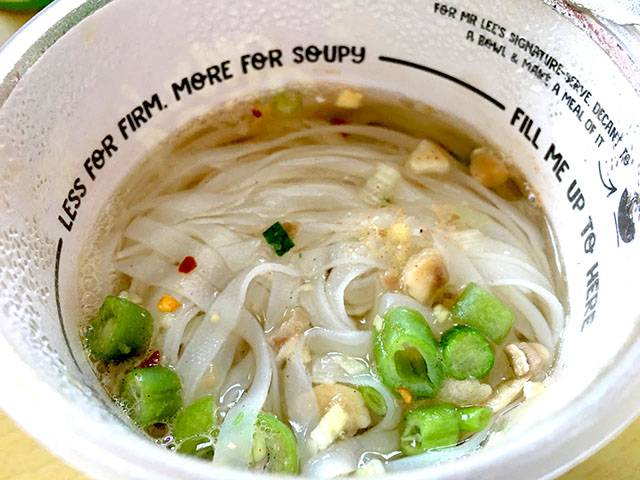 A clear, light and very earth-y tasting broth followed with al dente noodles cooked all in just 3 minutes. I purposely reduced my water content as I did not want it too watery, rather have a slightly thicker consistency broth. It was not as spicy nor sour as I anticipated though.
Coconut Chicken Laksa
– Fragrant Chicken Curry Rice Noodles with coconut, cauliflower, green beans and tumeric.
Aromatic and sweet with a very slight hint of spice coming through. Juicy chunks of chicken which has absorbed the flavours from the broth really well. Perhaps, cauliflower was a surprising yet exciting touch.
This particular flavour won 'Great Taste' Award in 2019 and it definitely tasted great.
Tai Chi Chicken
– Soul-warming Chicken Broth Rice Noodles with broccoli, spinach, ginger and orange blosson honey.
Energising and cleansing broth that is packed with loads of healthy greens and tender chunks of chicken breast. Gentle sweetness from the orange blossom honey and chicken pieces, but balanced with the savoury vegetables.
Zen Garden Miso
– Harmonious and balanced Miso Rice Noodles with asparagus, green beans, spinach and ginger.
Rich, deep and hearty miso broth jam-packed with loads of natural fresh greens. Large, delicate pieces of asparagus dot the noodle and have absorbed all that delicious broth. Can't go wrong with miso – I love miso!
Warrior Fighting Shrimp
– Kick-ass Tom Yum Rice Noodles with shrimp, coconut, galangal, bamboo shoots and lemongrass.
This was spicy!! Despite it stating a "mild spice" rating, or perhaps maybe my tastebuds are not as strong as my will to eat spicy food.
But the broth was very flavoursome, sooo coconut-y (I really love coconut) and beautifully scented with lemongrass. Oh, plus there was like a gazillion pieces of shrimps in there, so seafood lovers must try this one!
Hong Kong Street Beef
– Bold and vibrant Beef Rice Noodles with broccoli, orange blossom honey, ginger and Chinese five spice.
Superrrrr beef-y broth! Looked legit like a homemade beef noodle and tasted like one too. You have these cute cube pieces of juicy beef (almost like steak) and extremely punchy five spice aroma. Loads of broccoli and a balanced sweetness level from the ginger and orange blossom honey – definitely one of the pots to try.
Anddddd that's all folks! Thank you very much for reading my eating experience and thank you Mr. Lee's noodles for making me (and my sister Gigi) very full!
Just a reminder, these are one of the most healthiest noodle pots around! Ranging from 200-280 calories per pot! That's HALF the calories of a standard 100g dark chocolate bar and a THIRD of the calories from your usual restaurant visit, all in the convenience of your own home!
If you're interested, visit Mr. Lee's Noodle to find out more! At the moment, due to Covid-19, they will donate one cup of noodle to NHS staff for every box you buy.
So, remember to feed yourself well and also our UK frontliners! ♡♡♡