'Mah Lai Goh' 馬拉糕 literally translates to Malay Sponge/Cake. It is classically served amongst other dim sum treats and gives a contrast in flavours and textures – light and fluffy with a gentle touch of sweetness.
It is steamed rather than baked, allowing the cake to retain moisture and cook evenly, therefore creating an extremely bounce-y and less crumbly texture. Light brown sugar gives this sponge a lovely light caramelised colour and the use of butter offers a melt-in-the mouth texture.
Here, I just used a 7″ cake tin to see what happens and the results are pretty good. For this instant, it is better to cut the greaseproof base bigger so that it comes up from the sides – I think it looks cute this way, like a really big muffin. This recipe steams really well, giving nice apparent air bubbles and rising well.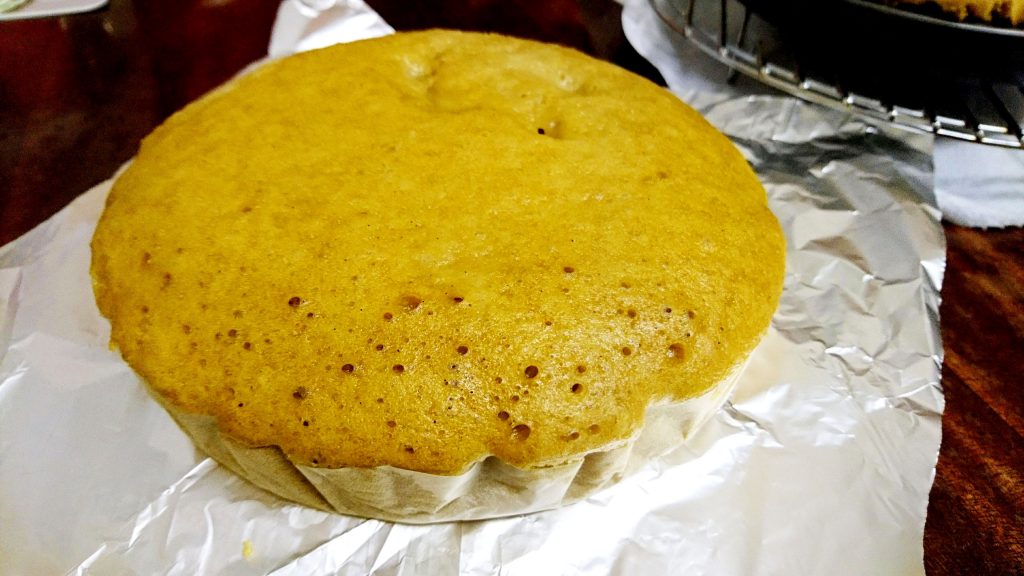 Like a massive muffin – the dent on top of the sponge is from the condensation from the lid on my steamer, this is because my cake tin sat very precisely so excess water dropped on top, oops. For future reference, some room surrounding the tin is probably better advised.
The texture of this recipe is reallyyy great. EXACTLY the same as if you were dining at a Chinese Dim Sum restaurant. There are actually two types of steamed cake you will see: one with varying bubble sizes and one with very equal and tightly packed bubbles – both are completely fine but depends on what eating experience you want to offer to your customers. The difference is that 'hole-y' will give an airy chewing experience and 'less hole-y' will offer more chewing like eating more cake in a way. But, both are good!..Really good!
---
馬拉糕 [Mah Lai Goh] – Cantonese Steamed Sponge

---
1 cup soft flour (I used cake flour [sifted[)
1 tsp bicarbonate of soda
1 tsp baking powder
3 large eggs
¾ cup brown sugar
7 tbsp coconut milk
¼ cup butter (melted – not too hot)
1 tsp vanilla extract or ½ vanilla pod seeds
Method
This recipe produced two 7″ cake in a double boiler. 
1. Set up the pan and start to heat the water. If you do not have a steamer, simply use a boiling pot lined with a round cooling rack. Just make sure there is enough water but does not touch the cake tin/ bamboo steamer. *Direct contact will mean boiling, but you want steaming – so no touching!
2. Cut two discs of greaseproof paper bigger than the base of 7″ cake tins so that it covers the sides. Leave aside until ready to use.
2. Sift the flour, bicarbonate soda and baking powder together and leave aside.
3. Begin whisking the eggs and light brown sugar together until light and fluffy around 3/4minutes on an electric mixer, medium speed. It will not be crazy-fluffy, but it will look airy and lighter.
4. Then add in the coconut milk, melted butter and vanilla and mix until well-combined.
5. In small batches, gradually incorporate the dry ingredients until just combined. Use a spatula to fold through ensuring no lumps of flour is left and to not break all the air bubbles. Immediately pour into lined cake tins around ¾ high. *Ensure the batter sits within your greaseproof paper.
6. Place into steamers and reduce to a simmering, medium heat with the lid on for ~30 minutes. In a double boiler, I switched the two sections half way steaming – this was because the section closest to the heat was rising faster compared to the top section.
7. After 30 minutes check the sponge by pressing top lightly and it will actively spring back, or ultimately insert a skewer to check if any batter remains.
8. Cool, then cut and serve immediately or stored in an air tight container until the next day.
~~Happy cooking and enjoy the result! 😀
Recipe developed from Saucy Spatula.