It was an incredible opportunity to stagier at the prestigious Fat Duck restaurant. Entering a highly- respected and qualified 3-star Michelin restaurant was definitely nervous but exciting experience. My week was split into halves – the first few days were in the preparation kitchen, creating the individual components for the desserts and the last few days were spent on service inside the restaurant.
The preparation kitchen originated from an office room, so it is situated upstairs along with the Experimental Kitchen. Despite the tight space, the Pastry Chefs are able to perform tasks swiftly and work methodically. Most mornings they prepare the sweet shop desserts: cutting them to size, packaging them and storing them in their appropriate locations. Many of their ingredients and unique techniques bring their desserts to life, although it is confidential information, the creativity and curiousity offer endless possiblities and this is what makes their dishes so exciting!
Pastry service is connected to the main kitchen with an open-plan design. Service was unlike anything I have ever experienced! It is extremely fast with outstanding precision; the movements act as if it is stuck in a continous loop for 5 hours or until end of service, and then it happens all over again – like a fast-forwarded video except there is no chance for rewinding i.e no time for mistakes. At the pass stands the Executive Head Chef, Jonny Lake, ensuring each and every dish are finished to the highest quality.
Overall, it is undoubtedly filled with extremely knowledgeable, skilled and focused Chefs' who are all willing to offer friendly advice and sophisticated teaching. They educate how and where to find great produce, as well as, ways to maintain its freshness. Each Chef has their own unique approach, but done-so within fundamental guidelines; one said, "Every Chef has their own system when working, but in order to work well in a team, you always place things back in their original space." The Fat Duck acknowledges individuals giving them the freedom and respect to grow, at the same time offering expertise and guidance.
Their tasting menu consists of 17 courses in total, here are a few that I helped plating.
Walk in the Woods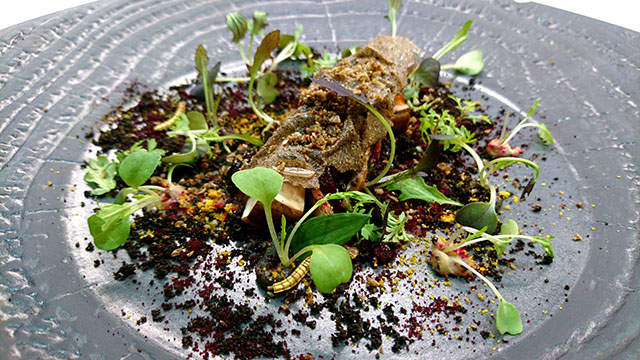 Mock Turtle Soup
Counting Sheep