Sri Lankan food, say what?!
I visited Rambutan with my friends the other day and it was a flavoursome experience!
Located on the outskirts of Borough Market, this little restaurant is snuggled up between Monmouth (a super cute and chillaxed coffee shop) and Wright Brothers (Oyster connoisseurs and wholesalers). Welcomed with fragrant aromas from their open-fire grill really sets the scene and gets your tastebuds going – it smelt so delicious and I haven't even sat down yet! The lovely wooden decor and bright green plants transported me back to S.E Asia, minus the blistering heat and humidity.
We sat downstairs on the bar stools, where it was a lot more intimate and quiet. To be honest, I would have much preferred a table as there was three of us but no biggie, it was what it was. On occasions, the music level was a little loud which made it difficult to hear what my friends were saying -possibly also due to the 'L' seating arrangement too- but we weren't fussed to move nor ask now as we already ordered.
The staff were super friendly and very kind to offer his favourite dishes, as well as, explain what some items were on the menu and which ones were the most popular.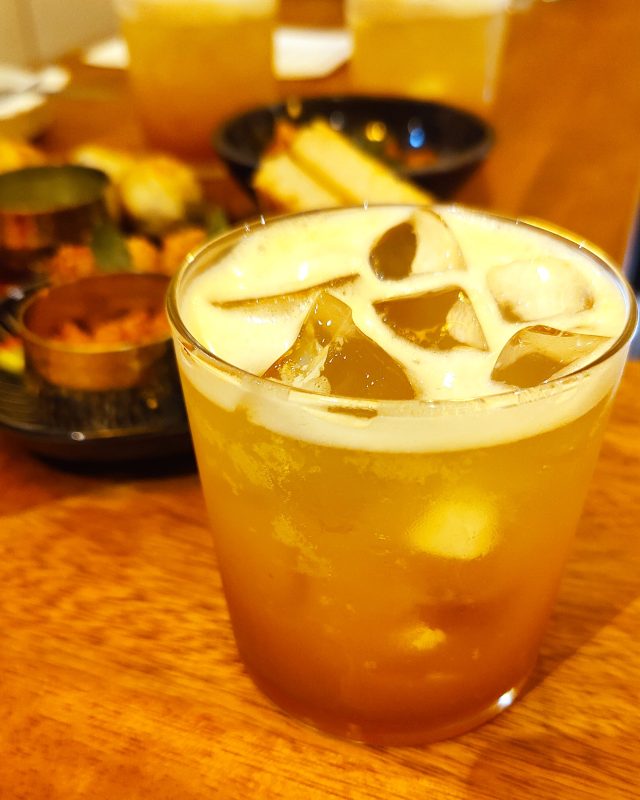 Everything looked so good on the menu so we pretty much ordered at least one or two from every section.
We started off with a really great calamansi iced tea! I did have to ask the bar staff to give the drink a mix, as the ice cubes melted and my first sip was actually just pure ice water, but once mixed it tasted great! I l really enjoyed the tea and calamansi flavours together, it wasn't as tart as I wanted it to be but subtle is ok too.
Starting off our food journey we ordered all the snacks! I loved the salty-spicy combo with the watermelon; my Bangladeshi friend always tells me in Bangladesh they eat fruits with chilli and salt and it did taste really good! It almost seemed like it made the watermelon sweeter? I was told by my previous exec Pastry Chef of Yauatcha that by adding a tiny dash of salt into anything sweet not only enhances the flavour but also, balances out the sugar level because sodium (a chemical element found in salt) activates the sweet taste receptors. As for the cashew nut snack, always delicious, can't go wrong with nuts unless they're burnt or gone off. 😝
Moving onto the shorteats, the gundu dosa were soooo fluffy – I loved that sauce (sorry, I don't know what it was, but the colour was lovely and bright) and the fried chicken was juicy. In fact, I actually really enjoyed dipping the bread (or paan) into the green gundu dosa sauce and then into the crispy thing that came alongside the fried chicken, that combo was so yummy! My apologies I don't have a clue what any of those small accompanying sauce dishes were, as it's not mentioned in the menu; I suppose that might be a problem if you had allergies or needed to write an extensive review but for me, as long as it tasted good, it's ok.
I LOVEDD the buttery layers of the roti! The black pork dry curry had depths of flavour, bold spices and slow-cooked to perfection making it melt-in-the-mouth with hints of delicious tamarind. Using Dingley Dell pork meant that you know it is of high-quality and will be rich in flavour. Naturally, I love any aubergine dish because we use it a lot in Chinese dishes, so it tasted good. We originally ordered the coconut, lemongrass and pandan dal, however, they gave us the chicken dish instead which still tasted great and the rice was satisfyingly al dente. Although we were really craving a very fragrant and aromatic dish, the saffron chicken pongal rice was still a good choice. The red pineapple curry dish didn't really add much of anything, except the pineapple was really sweet and cut through the fattiness of the pork well, but otherwise for £11.60 I don't rate it.
As for dessert, lovely sweetness from the mango, the texture was smooth and the taste was super fresh, but no offence, no soft serve should be £7.50!! Especially not for this portion size, it was smaller than an espresso cup! 😭 Unless the soft serve used the Sri Lanka rare wild mango, which I am sure they would have mentioned if they did, then I wouldn't be disappointed. Personally, I just felt the price did not match the dessert and very often dessert is the least considered part of the menu, hence why there is only one dessert option and soft serve is one of the easiest desserts to make. I would have loved for traditional Sri Lanka desserts to match the same energy as the previous dishes, because the savoury dishes were great. 
If you've been here, feel free to share your thoughts and opinions in the comments below! Please note these are just my personal preferences and respectfully everyone's eating experience will be different.